Infrastructure
Spacious, well ventilated and well lighted class rooms with appropriate learning aids, well equipped Computer, Physics, Chemistry, Biology, Maths laboratories are available for the students to learn by doing the activities.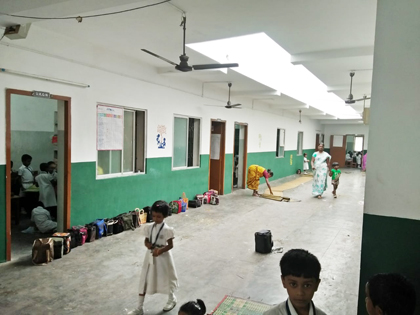 Modern Amenities
The Management has introduced modern audio-visual equipments like Projectors, TV, Smart Board and Computers to facilitate easy learning at the Pre-primary, Primary, Secondary and Higher Secondary Level
Library
A well-stocked library more than 600 books is another facility established by the Management for the benefit of the students and Teachers. Numerous reference books on different subjects are available in the library. Books to help students to prepare for the competitive examinations conducted by TNPCEE and other agencies have also been made available in the library. Students have free access to the library and they are encouraged to refer books and thus inculcate reading habits among them. Open Access System, Class Library are the added advantage.
Learning and Teaching Aids
This school has an audio visual room equipped with a television, a DVD player for the students to enjoy children films, and learn from educational CDs. An LCD projector is also available for the teachers use in CAL and TAL lessons.
Our Strength
Qualified and dedicated staff, trained in modern methodology of learning.
Well ventilated, airy, lighted spacious class rooms. Well equipped Physics, Chemistry, Biology, Maths Lab to ensure learning by doing.
Fully equipped Computer Laboratories with LAN, Broadband and internet connections.
Audio Visual room, with LCD Projector, TV, DVD Player, for the use of students.
A well stocked Library containing more than 5,000 books on Arts, Science, Value Education, Motivational books, General knowledge with an open access system.
A playground, with volley ball court, cricket ground and other games are played for physical development.
Transport facility to bring students from far and near. Moderate, affordable fees structure. Mode of fees payment term wise for four terms through bank.
A separate block for primary with lush garden and playground. Our Students Learn
Computer education is imparted from class I onwards. Students are given on-hands training in the computer lab.
Music is taught to all the students to inculcate an appreciation for music and to develop the aesthetic sense.
Karate is taught to all the students every week to inculcate braveness among students.
The students are taught slokas from Pre K.G to XII Standard to actively promote Indian culture and to imbibe basic human traits in our children which will help them in the long run.
Languages: English is medium of instruction; Tamil, Hindi and Sanskrit are taught as II Language. Primary classes are equipped with computers.